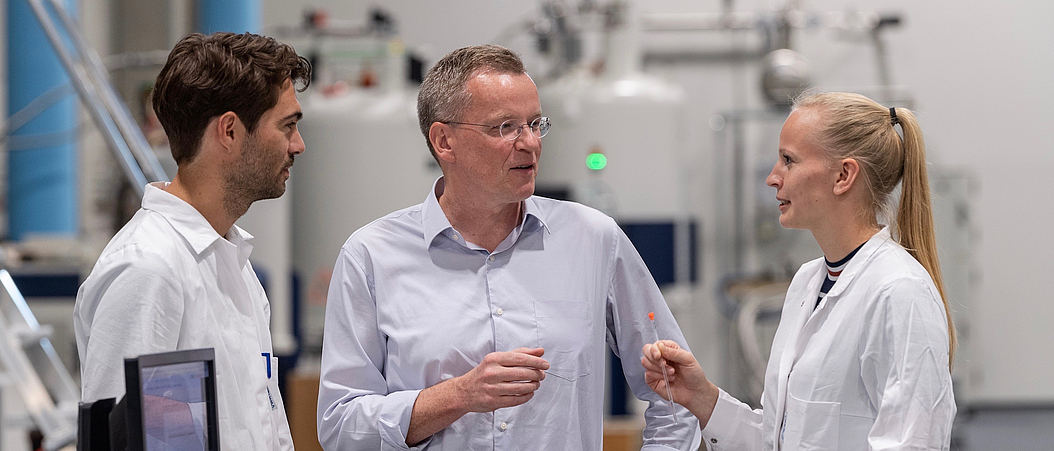 The large variety of academic disciplines represented at TUM create a broad spectrum of opportunities for interdisciplinary Doctoral projects in Bioengineering, Medical Physics, Biomedical Technologies and Bioinformatics. Close collaboration with TUM's own university hospital makes it easy for Doctoral candidates to take the key issues and requirements of everyday medical practice into account while working on their theses. A specialized Thematic Graduate Center, anchored at the Munich School of BioEngineering, supports Doctoral candidates with all organizational questions and promotes continuing education and networking.


Widely varied research topics
Doctoral studies in Bioengineering and related subjects at TUM can include research topics such as: Imaging Methods for Medicine, Artificial Intelligence in Medicine, Biomaterials, Biosensor Technologies and Neuroprosthetics. The doctoral program is open to graduates of various subjects such as Physics, Chemistry, Biology, Medicine, Electrical Engineering and Computer Science. The prerequisites applicable to a specific project have to be determined on an individual case basis together with the potential future supervisor.


Research close to medical practice
The Doctoral students' research frequently contributes to new procedures for the diagnosis and treatment of diseases that will find application in clinics and doctors' practices. As a result, Doctoral research has to begin with key medical issues and has to take the needs of everyday medical practice into account. TUM operates its own hospital, the university hospital TUM Klinikum rechts der Isar, so that many research projects can be conducted in close collaboration with physicians.


Graduate Center
The TUM has developed its own model for the Doctoral program in which every doctoral candidate is a member of a thematic Graduate center and the central TUM Graduate School (TUM-GS). The Munich School of BioEngineering (MSB) maintains its own Thematic Graduate center, the Graduate Center Bioengineering (GCB), for Doctoral candidates who work at different TUM departments on topics at the interface between Medicine, Natural Sciences and Engineering Sciences.

For their members, the graduate schools are the contact points for all organizational matters relating to their doctoral studies. They provide the doctoral students with a comprehensive program of coursework in specialized and interdisciplinary topics as well as additional support including editorial services for scientific publications and assistance in financing studies abroad. By comprising doctoral students working in a range of related areas, the GCB also fosters the exchange between young scientists with similar research interests.

Research Training Group "Advanced Medical Physics for Image-Based Cancer Therapies"
Young researchers interested in imaging methods for cancer diagnosis and in radiation therapy can also apply for membership in Research Training Group GRK 2274: Advanced Medical Physics for Image-Based Cancer Therapies. The research training group is operated by the Technical University of Munich, the Ludwig-Maximilians-Universität München, the respective university hospitals and the German Research Center for Environmental Health (Helmholtz Zentrum München) and funded by the German Research Foundation (DFG).