Over 23,000 parts, 5,600 assembly steps and 900 hours: Johannes Brantl built a model of the Munich Compact Light Source (MuCLS), a particle accelerator for generating X-ray radiation, both as a virtual model and using Lego bricks. Brantl is conducting research as a doctoral candidate at the Chair of Biomedical Physics, which operates the MuCLS in Garching at the Munich Institute of Biomedical Engineering (MIBE) of the Technical University of Munich (TUM).
What motivated you to build a model of this highly complex machine?
During a visit to the Garching ESO Supernova Planetarium and Visitor Center I was fascinated by the model they have there of the European Extremely Large Telescope. As a result, I also wanted to construct a scientific machine. Since I didn't have the fitting bricks at home, I first searched for a software to design the model virtually.

How long did it take to construct the model digitally?
A little over 500 hours. And another 200 hours for the instructions, which cover almost 5,600 assembly steps. I finished the virtual model shortly before the lockdown in the spring of 2020.
What did you most enjoy during this phase of the project?
Rendering the virtual model yielded beautiful and realistic images. Now I could share these pictures with other people instead of just telling them about the project. And I was very happy about the positive feedback.
What came after the virtual construction?
Many of my colleagues really wanted to be there and help with the building process. So, I created the instructions and ordered the bricks for the physical model. It took many evenings with plenty of pizza breaks before we had assembled the model. In total, construction took up about 213 work hours.

That is a very long time. Did you stay motivated to continue the whole time?
Oh, I was always motivated: I felt completely within my element. We usually started at around 5:30 pm, built for two hours, ordered something to eat and then went on building afterwards, sometimes almost until midnight. 213 hours may sound like a lot, but those hours were distributed among many people and several evenings. A team 18 colleagues from the Chair contributed to the project.
Were you interested in building models before this?
Yes, ever since I was little. The first models were relatively simple. One of the first real Lego models I ever made, when I was four years old, was a police truck. I was very proud of it at the time. At some point I started to build Star Wars models as well. Whenever I had an idea, I tried it out with all the building bricks I had and then refined it. Once the structural core was finished and the shape looked about right, I added the decorative elements.
The model of the MuCLS is now on display in the lobby of the Munich Institute of Biomedical Engineering in Garching. What is it used for?
We use the model to give visitors an overview of the machine and to explain how the Munich Compact Light Source works. In the near future we want to illuminate it with individually controlled LEDs. That would make it easier to show where things are happening, for example, where the electrons are being accelerated.
In simple terms, what is the Munich Compact Light Source and what makes it special?
The MuCLS is like a miniaturized synchrotron, a machine which generates X-ray radiation. Most synchrotrons have giant storage rings a couple of hundred meters in circumference. At the MuCLS this has been reduced to a couple of meters. As a result, the device is significantly more compact, but still generates X-rays with properties similar to those produced at synchrotrons. The maximum energy of the electrons in the storage ring is however considerably lower in the MuCLS than in a large synchrotron.
The Munich Compact Light Source is used as an X-ray source for a variety of research projects. What specific topics, for example, have already been researched using the MuCLS?
One doctoral candidate investigated how particles with sizes in the order of micrometers are transported out of the lungs. She used phase-contrast imaging to track the movement of the particles within the respiratory system.

Another example is the investigation of catalysts. Our research group used X-ray absorption spectroscopy to analyze a palladium catalyst to learn more about the electronic and geometrical structures.
In retrospect, what was the most difficult element in the whole model?
The most difficult part was the enhancement cavity, which stores two laser impulses and passively amplifies them. Seen from above, this element looks like an X. A mirror is mounted on each end which reflects the laser beam at an angle of 12.5 degrees. Building the connecting tubes between the mirrors at exactly this angle in such a small space was complicated, especially since I didn't want to put the bricks under any pressure. It took a few attempts before I was happy with this component.
What will be your next challenge?
First, I built another, smaller version of the model with about 3,000 pieces. Based on that I then built an even smaller version. The smallest version has the size of a sheet of DIN A4 notebook paper and consists of less than 1,000 pieces. In the future, more scientific setups might follow as models.
What is your tip for anyone who would like to give building such a complex model a try?
Just do it, it's fun!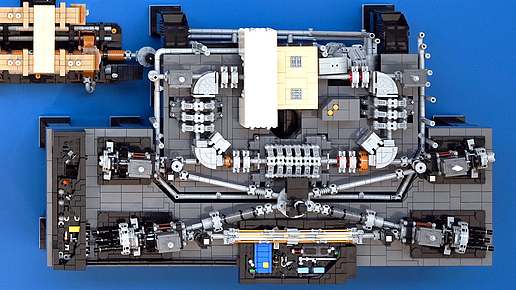 Publication
Information about the Munich Compact Light Source
Günther, B., Gradl, R., Jud, C., Eggl, E., Huang, J., Kulpe, S., Achterhold, K., Gleich, B., Dierolf, M. & Pfeiffer, F. (2020). J. Synchrotron Rad. 27, 1395-1414.
https://journals.iucr.org/s/issues/2020/05/00/ok5018/
Research examples from the interview
Gradl, R., Dierolf, M., Günther, B. et al. In vivo Dynamic Phase-Contrast X-ray Imaging using a Compact Light Source. Sci Rep 8, 6788 (2018). https://www.nature.com/articles/s41598-018-24763-8
Huang, Juanjuan; Deng, Fuli; Günther, Benedikt; Achterhold, Klaus; Liu, Yue; Jentys, Andreas; Lercher, Johannes A.; Dierolf, Martin; Pfeiffer, Franz: Laboratory-scale in situ X-ray absorption spectroscopy of a palladium catalyst on a compact inverse-Compton scattering X-ray beamline. Journal of Analytical Atomic Spectrometry, 2021, doi:10.1039/d1ja00274k
https://pubs.rsc.org/en/content/articlelanding/2021/JA/D1JA00274K

More Information
About the Munich Institute of Biomedical Engineering
The Munich Institute of Biomedical Engineering (MIBE) is an Integrative Research Institute (IRI) within the Technical University of Munich (TUM). At MIBE, researchers specializing in medicine, the natural sciences, and engineering join forces to develop new methods for preventing, diagnosing or treating diseases. The activities cover the entire development process – from the study of basic scientific principles through to their application in new medical devices, medicines and software.

About the Munich Compact Light Source
The Munich Compact Light Source consists of an inverse Compton scattering source developed and built by Lyncean Technologies Inc. The X-ray beam line with two experimental end-stations was developed at TUM.
About Johannes Brantl
Johannes Brantl studied physics at the Technical University of Munich and is now working on his PhD thesis at the Chair of Biomedical Physics led by Prof. Dr. Franz Pfeiffer.

Contact Media Relations
Corporate Communications Center
Technische Universität München
Carolin Lerch
carolin.lerch(at)tum.de
presse(at)tum.de
Teamwebsite