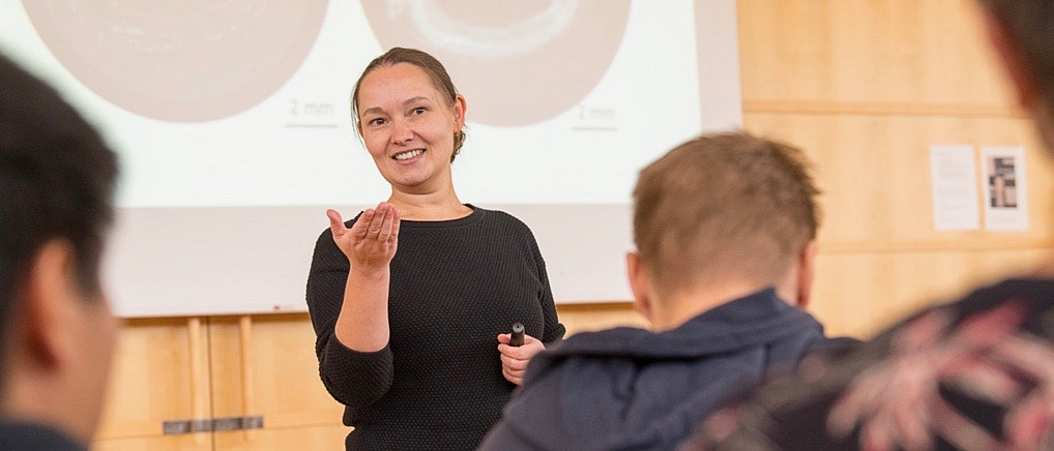 Master's Programs
Bioengineering combines the findings and approaches of various disciplines such as Medicine, the Natural Sciences and Engineering Sciences in the interest of developing leading-edge procedures for the prevention, diagnosis and treatment of diseases.
The Technical University of Munich is one of the few technical universities in Germany integrating Biology (School of Life Sciences), Bioengineering (Forschungscampus Garching), and Medicine (Klinikum rechts der Isar, MRI), and is therefore optimally suited for hosting Master's programs in the field of Bioengineering.
Master of Science in Biomedical Engineering and Medical Physics
The Master's program "Biomedical Engineering and Medical Physics" is conducted at TUM's School of Natural Sciences. The program is run in close collaboration with the MIBE in order to accommodate the highly interdisciplinary and research-oriented orientation of the degree program. The curriculum is intended to prepare students for career activities in research and industry in fields such as Biomedical Engineering and Medical Physics.
Visit the program's website.
This Master's program focuses on the engineering and mechatronics aspects of bioengineering. The program teaches students to recognize where medical technologies could support everyday clinical routines and how such devices can be developed. The degree course comprises modules covering mechatronics and equipment technology, materials and implants, musculoskeletal assistance systems, regulations and design of studies, kinematics and robotics, electronics and control as well as information technology.
School of Engineering and Design | More Information
Supported by the Elite Network of Bavaria, this Master's program links theoretical and experimental neuroscience with in-depth knowledge of engineering. Students learn to translate findings in neuroscience to real-world practical engineering applications for the clinical routine. The degree program covers modules from neuroscience, engineering, mathematics, information technologies as well as sociology/ethics and is designed to be hands-on and research oriented.
School of Computation, Information and Technology | More Information
The Biomedical Neuroscience program is also supported by the Elite Network of Bavaria. Aim of the Program is to provide comprehensive education in neuroscience – from the molecular to the systemic level, as well as practical training in most modern biomedical technologies. Additionally, the program covers modules on ethical aspects of research and computational neuroscience. The focus lays on gaining in-depth knowledge of biological and medical causes and mechanisms of neurological disorders.
School of Medicine | More Information
The combination of information technologies, biology and medicine is at the focus of this Master's program. The core emphasis is on the use of software and computer-based imaging-methods that simplify everyday medical activities and improve diagnosis and treatment options. The program conveys knowledge in medical data acquisition and management, biomedical imaging and image processing, machine learning, programming and software development as well as visualization and augmented reality.
School of Computation, Information and Technology | More Information
The Master's program in Biophysics deals with the physical description of biological material. This involves examining the elementary molecular components of a cell, as well as the interaction of these components at a systemic level. The program is structured in a specialization phase and a research phase, with a duration of two semesters each. Students have the opportunity to specialize in a particular area such as molecular, cellular biophysics, theoretical or system biophysics, as well as biomedical biophysics.
School of Natural Sciences | More Information
The master's program in Bioinformatics is offered in partnership with Ludwig-Maximilian University of Munich (LMU). The core of the degree consists of an interdisciplinary vocational education and training in biology, chemistry, informatics, and statistics. In addition to the master's internship, during the first three semesters, the central focus is on elective courses from all areas of study, which can be selected according to one's own interests and specializations pursued. However, there is a clear emphasis throughout the degree on bioinformatics.
School of Computation, Information and Technology | More Information
The objective of the Matter to Life study program is to train innovative and creative inventors who combine new technologies and unknown topics in an explorative learning-by-doing approach and creatively use biological substances to gain new insights and applications in the field of life sciences to accomplish. The program is integrated into the Max Planck School Matter to Life.
School of Natural Sciences | More Information