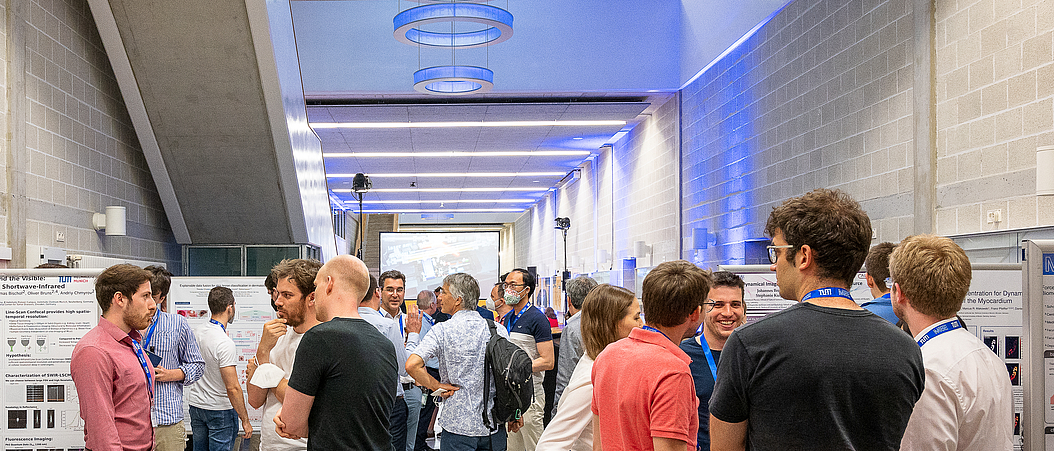 About MIBE
The mission of the Munich Institute of Biomedical Engineering (MIBE) is to promote exchange among researchers and to foster education in the broad field of biomedical engineering. The MIBE is organized as an Integrative Research Institute (IRI), i.e. as an interdisciplinary cross-departamental institution of the Technical University of Munich. Approximately 50 Professors from the departments of Physics, Informatics and Mathematics, Medicine, Chemistry, Mechanical Engineering and the School of Life Sciences Weihenstephan are Principal Investigators at the MIBE.

What is Biomedical Engineering?
Biomedical engineering combines the findings and approaches of various disciplines such as medicine, the natural sciences and engineering sciences in the interest of developing leading-edge procedures for the diagnosis and treatment of diseases and for the compensation of physicsl disabilities. In biomedical engineering researchers apply engineering science to develop innovative molecular and tissue structures, formulate new procedures for medical imaging and create various new protheses.

Biomedical Engineering at the Technical University of Munich
Researchers at the Technical University of Munich work in all fields relevant to biomedical engineering, distributed across various departments and schools. TUM is one of the few technical universities in Germany with both a School of Medicine and its own university hospital. Working in numerous cross-departmental projects, researchers develop solutions for the medicine of the future.
The significance of the subject area is also demonstrated by the fact that TUM has established several new centers for biomedical research in recent years, for example the Bavarian NMR Center, the Center for Translational Cancer Research TranslaTUM or the Center for Functional Protein Assemblies (CPA).

The Munich Institute of Biomedical Engineering (MIBE) has a central building TUM Campus in Garching. The building includes office space used by the administration of the MIBE and by several research groups, a lecture hall that seats an audience of 80, as well as laboratories and workshops. The building is also home to the Munich Compact Light Source (MuCLS) – a unique compact X-ray facility.

Research groups in the building:
Molecular devices and machines (Prof. Hendrik Dietz)
Epigenetics of Skin Aging (Prof. Karima Djabali)
Magnetic fields (PD Dr.-Ing. Bernhard Gleich)
Nuclear magnetic resonance imaging (Prof. Axel Haase)
Bio-inspired information processing (Prof. Werner Hemmert)
Biomedical imaging physics (Prof. Julia Herzen)
Computer aided plastic surgery (Prof. Laszlo Kovacs)
Computational imaging and inverse problems (PD Dr. Tobias Lasser)
Medical image computing (Prof. Björn Menze)
Phase-contrast x-ray imaging (Prof. Franz Pfeiffer)
Neurobiological Engineering (Prof. Gil Westmeyer)
Neuroelectronics (Prof. Bernhard Wolfrum)