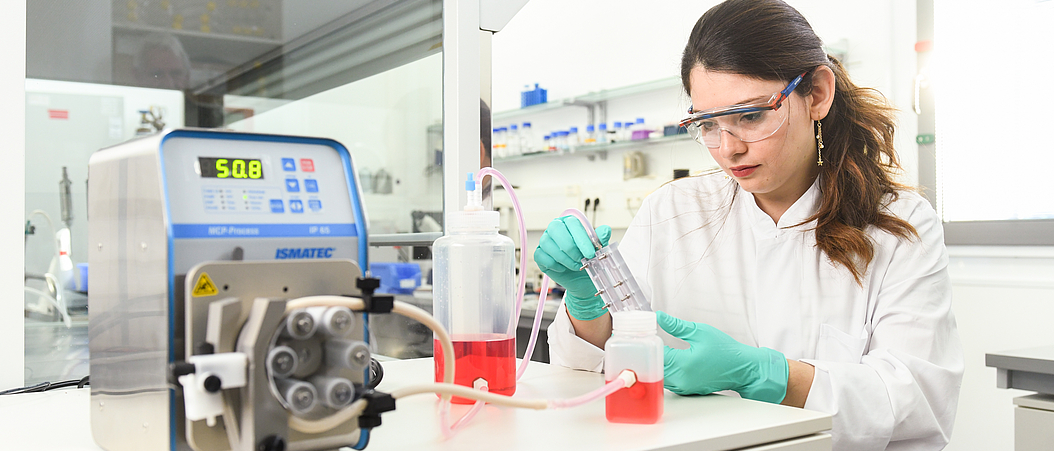 The MIBE building host various central laboratories, experimental rooms and workshops, which are used by MIBE scientists across working groups. These include genetic engineering and chemical laboratories as well as electrotechnical workshops, all providing state of the art equipment.
Two large-scale genetic engineering laboratories of safety level S1 are available to MIBE researchers for their experiments. These areas are equipped with state-of-the-art technologies for cell cultivation, microscopy as well as biochemical, molecular biological and other analytical work. This combination of different technologies in close proximity enables versatile and efficient experiments at the cellular and molecular level.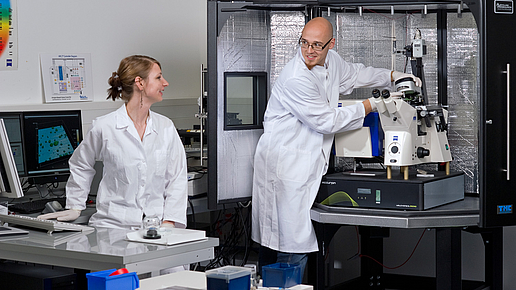 MIBE's chemical lab is equipped for fundamental work in the field of inorganic and organic chemistry. With several fume cupboards, FTIR spectrometer, UV-VIS spectrometer, a DLS, fluorescence microscopes, sintering furnace and a plasma system, it is also designed for activities in analytical chemistry. In this laboratory, for example, samples are prepared for electron microscopy or contrast agents are produced for imaging methods.
With a well-equipped electronics workshop, MIBE offers very good opportunities for the high-quality development of electronic devices. The workshop's measuring park covers a frequency range up to 7 GHz and is equipped for measuring voltages and currents up to the kilovolt and kiloampère range. In these labs, for example, magnetic neurostimulators, biosignal amplifiers but also NMR transmitting and receiving systems are developed and tested.